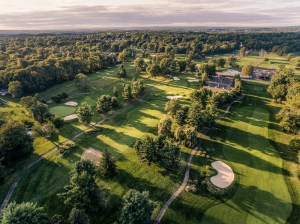 The Golf Course
Northampton Valley Country Club, proudly owned by Northampton Township and located in beautiful Bucks County, Pennsylvania, is a top-tier golf course in the Philadelphia area.
Our course is consistently rated as one of the best semi-private golf courses with public play in Bucks County. Our amenities include an 18-hole course that plays up to 6,400 yards, a driving range, a putting practice facility, and summer and ladies' golf leagues.
In addition, enjoy private events such as golf outings and weddings in our expansive banquet facility, or grab a bite for lunch, dinner, and after-golf nosh in our bar, Tavern on Ten.
– B.C., Google Review
---
The Pro Shop
We feature apparel and footwear from Greg Norman, FootJoy, and Adidas, which will have you looking your best on the course.
If your organization needs custom items for your next golf outing or function, let us handle all the details through our Pro Shop. We can provide what you need, whether it is logo shirts, customized golf balls, or specialty items.
---
Practice Facilities
If you want to practice, our putting green is fast and plush and has over 3,000 square feet of putting surface with multiple pin positions. Our practice area also features a huge Sand trap if you want to practice the most delicate short shot to a long-range bunker shot, and it provides an excellent way to refine any shot from the sand.
The beautiful chipping area is a great way to improve your shots up close to the pin with various clubs and different lies. Our practice facilities offer several methods to improve your all-around game to help any level of golfer shoot lower scores.
Our Driving Range features multiple stalls to hit from with targeted areas throughout the driving range.
---
Scorecard
| Hole | 1 | 2 | 3 | 4 | 5 | 6 | 7 | 8 | 9 | Out |
| --- | --- | --- | --- | --- | --- | --- | --- | --- | --- | --- |
| Blue | 328 | 338 | 218 | 410 | 185 | 388 | 530 | 410 | 315 | 3122 |
| White | 316 | 333 | 192 | 398 | 170 | 367 | 500 | 405 | 305 | 2986 |
| Gold | 303 | 328 | 172 | 332 | 156 | 310 | 369 | 361 | 270 | 2601 |
| Red | 293 | 318 | 162 | 322 | 146 | 300 | 359 | 351 | 260 | 2511 |
| Par | 4 | 4 | 3 | 4 | 3 | 4 | 5 | 4 | 4 | 35 |
| Handicap | 17 | 13 | 9 | 3 | 15 | 7 | 5 | 1 | 11 |   |
| Hole | 10 | 11 | 12 | 13 | 14 | 15 | 16 | 17 | 18 | In | Tot |
| --- | --- | --- | --- | --- | --- | --- | --- | --- | --- | --- | --- |
| Blue | 366 | 433 | 422 | 400 | 545 | 170 | 388 | 349 | 207 | 3280 | 6402 |
| White | 357 | 415 | 395 | 372 | 530 | 161 | 362 | 340 | 184 | 3116 | 6102 |
| Gold | 325 | 382 | 305 | 298 | 416 | 158 | 272 | 340 | 158 | 2654 | 5255 |
| Red | 315 | 372 | 295 | 288 | 406 | 156 | 262 | 330 | 148 | 2572 | 5083 |
| Par | 4 | 4 | 4 | 4 | 5 | 3 | 4 | 4 | 3 | 35 | 70 |
| Handicap | 12 | 4 | 10 | 6 | 2 | 18 | 14 | 16 | 8 |   |   |