The second golf major of the season has finally arrived, and we're getting ready for a weekend filled with competition. Over the years, we've seen 33 playoffs at the Open Championship and landslide victories like that of Tiger Woods in 2000, when he defeated the field by 15 strokes as the only player in the tournament to finish under par. At the 2015 US Open Golf Championship, the golf world has gathered at Chambers Bay in University Place, Washington for the 115
th
tournament in Open Championship history. The eight-year-old course holds plenty of challenges, including the elevation changes from hole to hole, the undulated greens, and lack of trees. There is only a single tree on the entire course, and it happens to be out of bounds.
We've heard the chatter this week as the players have arrived and played their practice rounds. We've heard how difficult a course it is, and the preparation that needed to be taken to get accustomed. As a course so young, many contestants played their first round there this week. We'll see frustrations and mental breakdowns, as there will undoubtedly be wild bounces and mishits that land in good shape. -The course layout will be a topic mentioned time and time again on broadcasts and discourses. Just watching the latest ESPN broadcasts at Chambers Bay and reading articles leading up to the Open Championship, the layout is the main concern amongst the players. Don't be surprised if you're scrolling through your Twitter feed or watching a post-round interview and hear players publicly criticize the USGA and Chambers Bay. -Holes 1 and 18 can be interchanged between a par-4 and a par-5. The interesting thing here is that the players won't know until they arrive at the course each day what the USGA decided. Without knowing how the course will be set up, the players practice rounds will be a wash if they're expecting the hole to play as a par-5, or vice versa. These holes will make or break a player's round. -The links-style course is like playing at St. Andrews. Although the layout can be frustrating for some, players will save their rounds with the short game and approach. There are hazards throughout the course—sandtraps and thick rough—but straight drives will play considerably well for the field. -Creativity will be on display. Each hole can be played multiple ways, so we could see some spectacular shots from creative approaches. The holes play differently at different times of day, and the tee boxes can shift about 100 yards. Players will be aggressive and try to drive the green on certain holes, but the course will play tough. -Even when drives and approach shots are going well, players will see long putts that can make or break their round. The undulated and gigantic greens can leave shots 50 feet away from the pin, requiring sharp putts to stay paced with the leaderboard. The favorites in this year's Open Championship are the world's top golfers, Rory McIlroy and Jordan Spieth. McIlroy is primed and confident that he will put up a fight, while Spieth's caddie, Michael Greller, used to play at Chambers Bay and could offer valuable insight that gives Spieth the edge.
ESPN's
Michael Collins wrote an in-depth article about Greller's knowledge. Who will win? It could be a great performance by a player like Zach Johnson or Rickie Fowler, or a 45-year-old Phil Mickelson can show he still has the creativity in his game to give him a boost. With such a young course, the winner of the US Open Championship Trophy is up for grabs.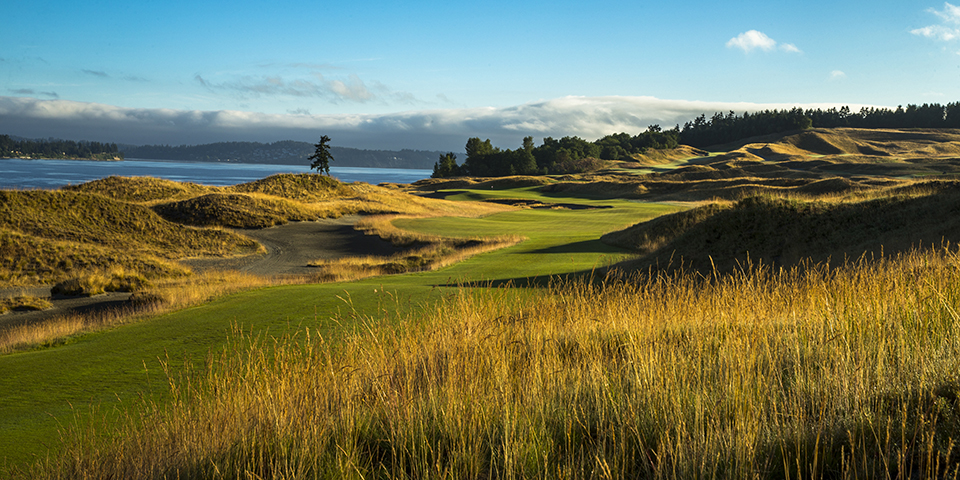 As golf fans, we're in for a treat this weekend. With the factor of the unknown in the shadows, there will be a back and forth that could set up perfectly for a Sunday showdown. While golf is on the mind, look for
golf courses in the Philadelphia area
that are in pristine condition. Don't worry, we don't have undulated greens and feature plenty of trees.